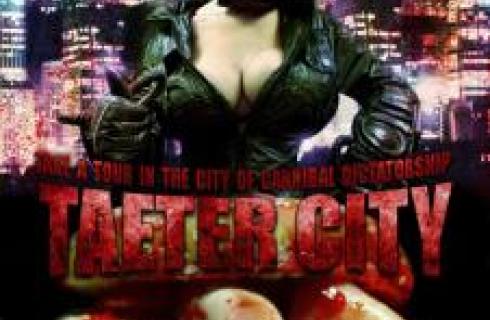 Taeter City, 75 min, Italy, Italian spoken, English subs, dir Giulio de Santi

Adam's wife passed away however he is not convinced she died of natural causes.
In the future all subjected to the iron fist of 'THE AUTHORITY'", they control the community with radio-frequencies. Crime is no more. If anyone has criminal thoughts the frequencies will cause a horrible death. This pleases the population as the meat will be used for consumption. For many it consider an utopia, until there is someone who's immune to these radio-frequencies.

With Teater City, Giulio de Santi delivers an over the top splatterfest that will be a delight to all fans of guts and gore. Like the 'Adam Chaplin' production on the festivals bill this is from the Necrostorm studios, one can only hope for more from these film makers.
Splatstick is a familiar term to horror lovers, but Necrostorm studio just might make it there trademark!
75 min, Italy, Italian spoken, English subs, dir Giulio de Santi