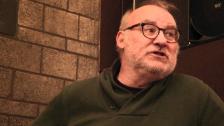 This year, BUTFF will recieve a very special guest. Friday, the 6th of September, Jan Bucquoy will be attending BUTFF 2013! The phenomenon Jan Bucquoy is hard to describe, but we'll try. Storms the Belgian Parliament, draws TinTin sexcomics and is an artist with frying oil....just to name few things..Oh and let's not forget his museum of undies of course. 
Jan Bucquoy is a well-known republican who is notorious for his provocative actions. Just recently, he made the news after King Albert II of Belgium stepped down. For him, the ideal moment to end the Belgian monarchy. (watch it here)
In 1992, he asked the king to appear on the square for his public beheading using the following words:
'Sire, since every attempt to settle our disagreements has failed, preparations for your beheading have been made. We kindly ask you to appear on the Grote Markt in Brussels at Friday, the 15th of May 1992, 2 PM to proceed with your beheading. Appealing against this decision is impossible. We also kindly ask you to make a list of all your possessions, in order to make arrangements for a public sale. All profits will be used to benefit the public treasury, apart from the usual 15% commissionfee ofcourse. Because of your bad health at the moment, arrangements have been made by the Red Cross to assist you where needed. This written notification will be our only message. Long live the Republic! 
Was signed, the executioner Jan Bucquoy.
The king never showed.
But apart from being an artist and making provocative statements, Jan Bucquoy is also a talented filmmaker! During the festival we'll be showing three of his movies. During his movie Vrijdag Wasdag he will perform live voiceovers. Further, he will awe us with baking fries medieval style and making art with oil on canvas.
It's going to be a very special BUT friday!